Real Estate in Grenada: Answers to Your Most Frequently Asked Questions about purchasing land in Grenada
Picture yourself sipping a cold drink on a pristine white-sand beach, surrounded by lush, unspoiled nature, as the warm Caribbean breeze whispers secrets of the island life. If this sounds like paradise to you, it's time to turn your attention towards Grenada – the hidden gem of the Caribbean! In this exclusive blog post, we will dive into your most frequently asked questions about real estate in Grenada and provide the insider knowledge you need to make your dream home a reality. So, let's embark on this exciting journey towards your very own slice of island heaven!
Our Frequently Asked Questions (FAQs) section on Real Estate in Grenada provides valuable information and answers to common questions such as buying and selling property, property taxes, home financing, government regulations, legal procedures, and more. This section is designed to help potential investors navigate the real estate market in Grenada with confidence.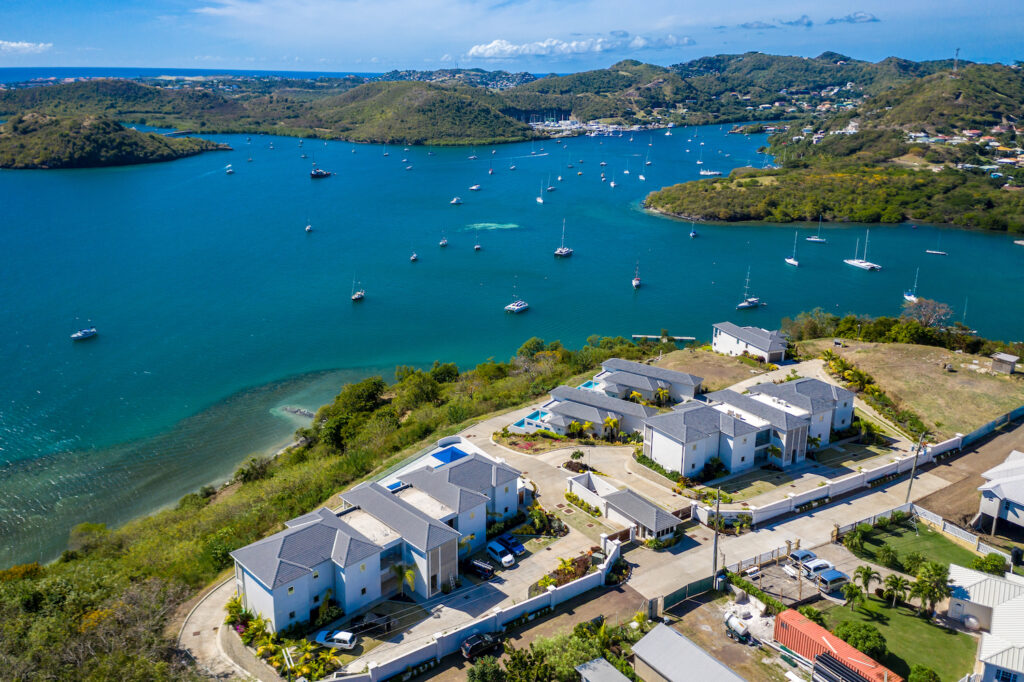 Basics of Real Estate in Grenada
If you are considering buying or renting property in Grenada, it's essential to understand the basics of real estate in the country. Making an informed decision requires a good understanding of the rules and regulations governing the property market.

Firstly, it's worth noting that Grenada is an island nation located in the Caribbean, known for its tropical climate, stunning beaches, and cultural heritage. It's also important to know that the local economy is heavily dependent on tourism, making it an attractive place for overseas investors.

For instance, I have a friend who invested in a condo unit in Grenada's at The Point at Petite Calivigny. He loved spending his holidays on the island, and he figured buying property would make sense financially while simultaneously being a good base for vacations.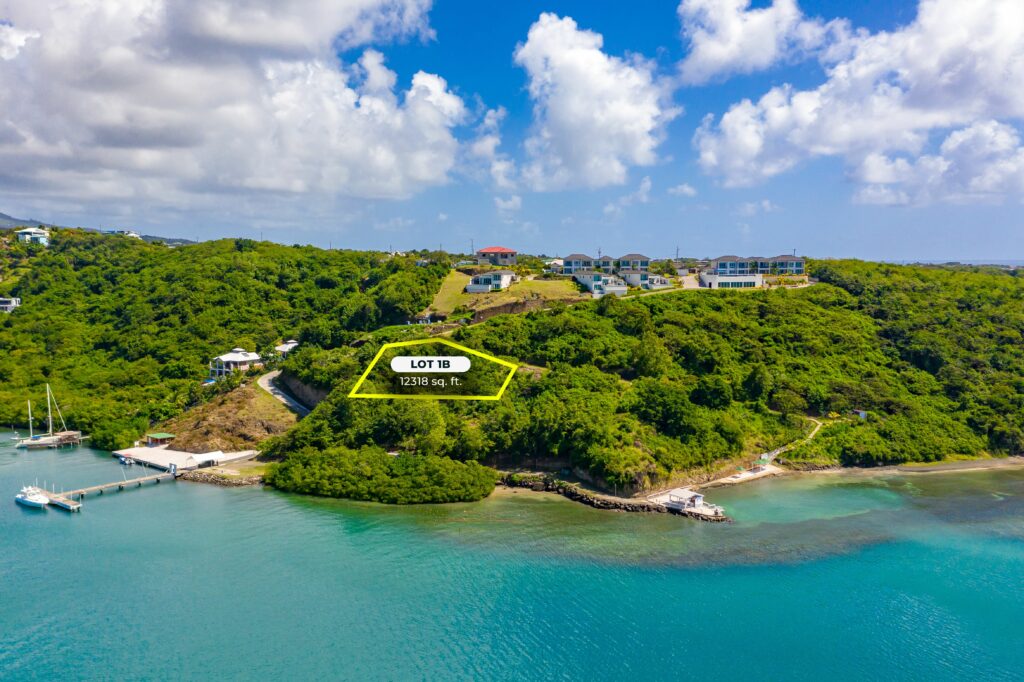 But before you make any decisions regarding real estate investment, let's take a closer look at some essential aspects of the property market in Grenada.

The first thing to be mindful of is ownership regulations. Non-Grenadians need specific licenses to buy land (as distinct from building structures), so you'll want to make sure you're properly licensed if you wish to purchase land instead of just buildings. In general though, purchasing residential properties here is fairly straightforward.

In terms of financing options, mortgages are available through both local banks and international financial institutions like RBC or CIBC. However interest rates may differ according to country of origin and thus repayment requirements vary depending on the lender.

Additionally, it is worthwhile investigating having legal assistance working on your behalf from day one of your real estate transaction. While you may think this kind of representation is unnecessary, working with legal professionals offers great peace of mind and protects you against any misunderstandings within these transactions.

Now that we have addressed some key aspects of Grenadian real estate overview, let's take a closer look at the types of properties available in Grenada.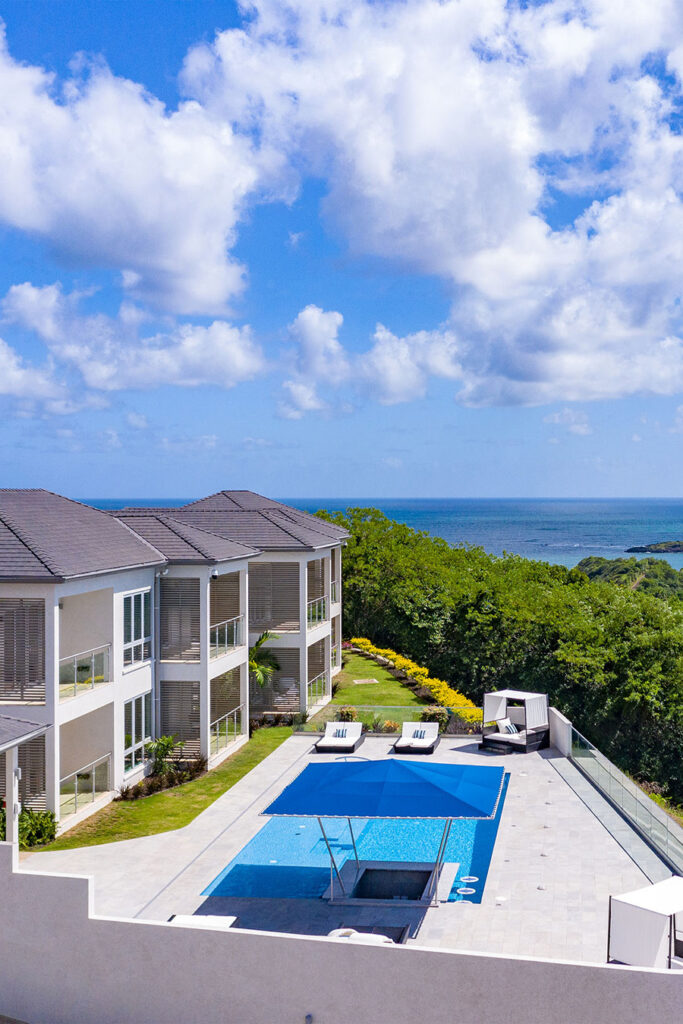 Types of Properties and their Availability
Grenada has an impressive variety of property types available for investors. Whether you are looking for a vacation home surrounded by the beautiful Caribbean Sea, or a house in a vibrant neighborhood with local amenities, there is something to suit everyone's needs.

The most common property type is apartments/condominiums which are commonly developed in upscale areas such as the Grand Anse area, St. George's, Petit Calivingy or Lance Aux Epines- all within central Saint George parish.

A friend of mine bought a two-bedroom apartment at The Point at Petite Calivigny on the island, and he was impressed with the quality of construction and contemporary design. He told me that he's seen similar projects in other Caribbean countries and that nothing quite compares to the quality of work he saw in Grenada.
You can find The Point at Petite Calivingy below.
Contact Information:
Address: 1 Welcome Road Lower Woburn, St George's, Grenada
Phone: +14734402727

In addition to these options, some regions offer townhouses/duplexes which come with attractive prices allowing owners to have their private outdoor space while enjoying more substantial living spaces than condos typically offer. It would be wise to also consider long term apartment rentals.

If you're looking for more significant properties, there are villas/houses scattered throughout several neighborhoods at both ends of the island, again usually found opposite stunning ocean views. These houses often feature exquisite finishes and luxurious features such as infinity pools, Jacuzzis, game rooms as well as surround sound systems ready for entertainment. Be advised though – private homes usually demand higher prices than apartment complexes; it's worth assessing carefully what kind of environment you want to live in when making your choice.

Choosing between different property types can be like choosing between brands of phone: every manufacturer makes a product designed to meet specific customer needs. So whether you're looking for luxury living or just a home away from home, understanding what is available helps make sure you choose the property that ticks all your boxes.

Understanding the different types of properties available is a crucial step in making informed decisions in property acquisition. In the next section, we'll be exploring the most asked questions related to the property purchase process.
Grenada offers a wide range of property types, including apartments/condominiums, townhouses/duplexes, and villas/houses. Each type meets a different set of needs, and buyers should carefully consider which type is right for them. Private homes often come with higher prices than apartment complexes but offer luxurious features such as infinity pools and game rooms. It's essential to understand the options available when making informed decisions on purchasing property in Grenada.
Understanding the Property Purchase Process
When it comes to purchasing property in Grenada, the process is fairly straightforward and follows a similar pattern to that of other countries. To start with, you will want to find a real estate agent or broker who can assist you in your search. They will guide you through the entire process, from finding the right property to putting an offer in and negotiating terms.

It's important to keep in mind that buying a property is not something you should rush into. Careful consideration needs to be given to the location, size, and condition of the property before making a final decision. As such, it's best practice to view as many properties as possible to ensure that you make an informed decision.

Once you've found a property that meets your requirements, it's time to put in an offer. Your real estate agent or broker will guide you through this process and help with negotiations until an agreement has been reached between both parties. When your offer is accepted, it's time for you to sign a purchase agreement and put down your deposit.

A friend of mine recently purchased a condo in St. George's, Grenada. She spent several months researching properties online and then flew out for a week-long trip to view properties in person. When she found the perfect condo, her real estate agent helped her negotiate the price down slightly before she signed a purchase agreement and made a significant deposit towards the sale.

Next, your lawyer will begin conducting due diligence on the property. This involves verifying ownership status, ensuring there are no liens against the property, and checking all legal documentation pertaining to the sale. Once all legal paperwork has been confirmed as legitimate and accurate, it's time for both parties to close on the sale.

At closing, all remaining funds are exchanged for legal paperwork which officially transfers ownership from seller to buyer. Congratulations! At this point, you become the proud new owner of your piece of paradise, and it's time to take the keys.

With an understanding of what goes into the property purchase process in Grenada, let's take a look at some of the local market insights and costs to keep in mind while searching for your perfect property.
According to a report by the World Bank, property prices in Grenada have been steadily increasing at an average rate of 4% annually since 2010.
As per the data from Grenada's Ministry of Finance, the real estate and rental sector contributed approximately 14% to the country's GDP in 2019.
A survey conducted by a prominent global real estate company in 2021 stated that foreign investors accounted for around 60% of luxury property sales in Grenada.
Local Market Insights and Costs
The real estate market in Grenada is unique compared to other Caribbean islands. While there are a variety of property types available for sale, most are priced higher than what you'd expect to pay in surrounding areas. However, with recent developments such as St. George's University expanding its campus and Grenada becoming more of a regional hub for tourism, prices have started to increase steadily over the last few years.

According to recent data from the Caribbean Development Bank, Grenada's real estate industry experienced growth of approximately 4% over the course of 2020 despite the economic downturn brought on by COVID-19. This demonstrates that demand for property in Grenada remains high, paving the way for continued growth and expansion.

When it comes to pricing, it varies from location to location. Areas popular with tourists such as Grand Anse or True Blue will generally be priced higher than less tourism-heavy areas such as Gouyave or Sauteurs. As per international custom, properties with access to beaches or waterfront bays tend to come with much higher price tags than those that do not, but overall prices are still within reach for many investors.

Think of it this way: just like how a prime location in Manhattan will cost significantly more than an apartment in New Jersey, beachfront properties will cost more than inland properties due to their proximity to key amenities and natural attractions.

It's also important to note that due diligence should always be conducted when investing in any property. Maintenance fees and employment opportunities in the local area should all be taken into account when making a purchase. Proper precautions can help ensure that your property investment is viable in the long term.

While purchasing a property in Grenada may come with higher price tags than some neighboring areas, the benefits of investing in a piece of paradise more than make up for it. The island offers stunning natural beauty, a thriving tourism industry, and a welcoming community that makes it an excellent choice for those looking to invest in their future.

Overall, understanding the property purchase process and the local market conditions can help you make informed decisions when buying real estate in Grenada. Whether you're looking for your dream vacation home or want to invest in rental properties, doing your research and partnering with experienced professionals can ensure that your investment will pay off for many years to come.
Current Prices and Trends
One of the main factors that drives the real estate market is prices. In Grenada, the property market has seen a gradual increase in property prices over the past few years. This trend can be attributed to various factors such as increasing demand from investors, foreign buyers, and locals alike. With so much movement within the real estate industry, staying up-to-date on trends and prices is important.

According to local experts, property values have increased by approximately 10 percent in Grenada over the past year. As more individuals discover Grenada's natural beauty and welcoming culture, there has been an influx of investment into the island's infrastructure. This not only includes new tourist attractions but also residential properties that cater to those looking for vacation homes or investment properties. The high demand among potential buyers and investors has led to the steady increase in property prices.

A key indicator of current trends in Grenada's real estate market lies in Grand Anse beachfront properties. Historically this area has maintained some of the highest property values due to its prime location close to all major amenities and offering direct access to St. George's University School of Medicine. At present, it is increasingly attracting well-heeled international visitors seeking luxurious accommodations with convenient amenities alongside busy holidaymakers attracted by its relaxed vibe and stunning scenery.

While the recent upward trend in Grenada's property prices may be viewed positively by sellers and investors, buyers may face difficulties when it comes to affordability and accessibility of suitable investments reducing available options for first-time buyers or locals looking for permanent homes.

Moreover, with changes in global economies or natural disasters certain factors can unpredictably affect pricing patterns causing fluctuations leading to investment uncertainty adding stress on potential buyers who remain watchful about their long-term investments.

Property purchasing power should perhaps resemble cash as it depreciates over time, in most cases people should buy if they intend to settle for some time. This caveat alerts interested buyers of potential risks associated with waiting too long before investing in Grenada's real estate.

Understanding the current market trends plays a significant role in determining whether one should invest or not. With that said, let us now explore the decision between renting and buying property in Grenada.
Renting vs. Buying Property in Grenada
People looking to relocate to or vacation in Grenada may find themselves questioning whether it is more beneficial to rent or buy property. Different individuals have different reasons for wanting to rent versus buy property. At first glance, rental prices tend to seem more affordable compared to purchasing price options. At the same time, owning a home provides various short-term and long-term benefits worth considering when deciding which approach suits your unique situation best.

One of the primary advantages of renting property is cost efficiency. Renters don't have to worry about maintenance costs as landlords are required by law to facilitate all repairs needed on the leased property during occupancy. Another advantage of renting is flexibility lease agreements offer; renters can opt to move after their lease duration expires without worrying about commiting to long-term mortgage payments.

In contrast, homeownership offers stability and security long term; once you pay off your mortgage, your home is yours both as an asset and abode providing piece of mind well into retirement years – crucially important when it comes to quality of life planning ensuring financial surety long after active income stages.

However, not everyone seeking residence in Grenada intends on staying permanently, hence rental arrangements can offer great flexibility for temporary placements compromising long-term commitments inherent in homeownership. On the other hand, rental agreements may also bring challenges such as changing governing laws thereby increasing your risk exposure affecting pricing over periods.

When it comes to choosing whether to rent or buy property in Grenada, comparisons can be likened to vehicles. Renting may seem like leasing a car – providing short-term access and no actual ownership of your rental vehicle. Buying property is more similar to Purchasing a car outright- the asset belongs to you, invested with capital gains accrual and providing long-term financial returns.

Understanding all of the available options and risks associated with either renting or buying property can require significant insight into Grenada's unique niche market. Staying up-to-date on frequently asked questions and industry trends remains important in making an informed decision.
Pros and Cons of Each Approach
When it comes to investing in real estate, the decision to rent or buy a property is a crucial one. In Grenada, both options are available and can be tailored to suit your personal circumstances. Here are some pros and cons to consider before making your final decision.

Renting a property in Grenada may be the better option for individuals who don't want to commit to a long-term investment or have a limited budget. Some other pros of renting include:

Flexibility – Renting provides flexibility, especially if you're unsure about your future plans in Grenada or need the freedom to move around freely without being tied down by owning a property.

Affordability – Depending on the size, location and quality of the property, renting is generally cheaper than buying in Grenada. This means you'll have less financial burden and can free up cash flow for other investments or expenses.

Maintenance – In many cases, landlords are responsible for maintaining their rental properties. This means you won't have to worry about property repairs, renovations or upgrades as they will be undertaken by the landlord or property management company.

However, there are some downsides when it comes to renting property in Grenada. These include:

No Equity – When you rent a property, you don't build any equity on the home like you would if you had bought it. This means that all the money paid as rent goes straight into someone else's pocket instead of your own.

Limited Freedom – You may have restrictions such as no pets allowed or not being able to redecorate or make changes within the premises without written consent from the landlord.

No Guaranteed Long-Term Stability – Renting does not offer long-term stability and there is always a risk that you may be asked to vacate the property with relatively little notice.

Buying a property in Grenada may be the better option for individuals who want to secure their financial future and build wealth through property ownership. Some other pros of buying include:

Build Equity – One of the biggest advantages of owning property is that you can build equity on the home, which means over time, your investment grows in value. This gives you the opportunity to access larger loans or lower rates if you wish to invest in more properties in the future.

Long-term Financial Security – Owning a home provides long-term financial stability since you won't have to worry about rental increases, renegotiating leases or being evicted by a landlord.

Freedom – When you own a property, you have greater control over what you do with your space, including renovating or updating it without having to seek permission from anyone else.

However, there are also some downsides when it comes to buying property in Grenada. These include:

Costs – Buying a property requires upfront costs such as down payments, closing costs, taxes and insurance. These costs can add up quickly and make the transaction less affordable than renting.

Lack of Flexibility – Once you've bought a property, it's not as easy to just pack up and leave as it would be if you were renting. This lack of flexibility means you need to ensure that the area suits your lifestyle needs before making a purchase.

Responsibilities – As an owner, you will be responsible for maintenance and repairs on your property. This means arranging for and paying for repairs when necessary.
Legal Matters and Documentation FAQs
Before investing in any property in Grenada, it's essential to understand the legal requirements involved in real estate transactions. Here are some frequently asked questions regarding legal matters and documentation in Grenada:

Q: What type of title is issued when purchasing a property in Grenada?

A: When you purchase a property in Grenada, you will be issued with a registered title. This title is used to prove ownership of the property and is registered to the Land Registry under your name.

Q: Do foreigners have the same land ownership rights as locals in Grenada?

A: Yes, foreigners have the same land ownership rights as locals in Grenada. However, there are certain regulations that govern foreign investment in real estate in Grenada. In some cases, approval from the Caribbean Regional Organization (CRO) may be required before purchasing land.

Q: Do I need to hire a lawyer when buying or selling property in Grenada?

A: Yes, it's highly recommended that you seek professional legal advice when purchasing or selling a property in Grenada. A lawyer can help you navigate any legal requirements involved, ensure that all necessary documents are complete, and protect your interests throughout the transaction.

Q: What documents do I need to provide when buying or selling a property in Grenada?

A: When buying or selling property in Grenada, it's important to have several key documents on hand including identification, proof of nationality or residency status, and proof of funds. Think of these documents as your passport into the world of real estate. They serve as proof that you are authorized to engage in such transactions and have the financial capacity to do so.

To conclude, understanding the pros and cons of renting versus buying a property and being knowledgeable about legal matters affecting real estate transactions are crucial factors to consider when investing in Grenadian real estate. With their beautiful surroundings, rich history and favorable climate, it's no surprise that many people choose this Caribbean nation as their ultimate destination for property investment.
Navigating Residence and Paperwork Requirements
When it comes to purchasing real estate in Grenada, there are specific considerations that you as a buyer must understand, especially in regards to your residency status. The first thing you should know is that any foreign individual interested in owning property in Grenada will need to obtain a Non-Citizen Landholding License (NCLHL) which is issued by the government of Grenada.

This license permits you as a foreigner to purchase land and property throughout most areas of Grenada without restrictions or limitations on rights or benefits enjoyed by citizens of Grenada. Furthermore, when applying for the NCLHL, the government will require proof of identity, financial references, and an outline of your investment intentions in Grenada.

It is important to note that this process can be time-consuming and requires a lot of paperwork. However, it is not as challenging as it may seem at first glance. For example, one applicant that I worked with named Sarah was anxious about the whole process but found it relatively straightforward once they had all their documents in order. They were pleased with how thorough the government was during the application process.

There are some additional residency requirements for potential buyers who plan on spending more than six months per year on the island. In such cases, you would be required to apply for an Alien Land Holding License (ALHL) and then apply for residency status. While this may seem like an added burden, achieving residency status opens up many long-term benefits that could make it worthwhile for individuals who frequently visit or plan on staying full-time.

Think of it like obtaining a visa to travel to another country; there are administrative procedures and documentation required before being granted permission to stay longer-term.

It's worth noting that legal requirements can differ depending on your nationality, and thus I advise speaking with a legal professional or real estate expert in Grenada to help walk you through the entire process of buying property in this island paradise fully. Overall, my experience has been that the government of Grenada is quite accommodating when it comes to non-citizen landowners, but working with experts who understand the nuances of local law can make all the difference.

Finally, understanding the rules and regulations around obtaining residency and landholding licenses is crucial when beginning your purchase journey. Ensuring that you fully comply with all requirements and obtain all necessary documentation before making any purchase will save you time, money, and stress in the long term.
Frequently Asked Questions and Answers
What are the common mistakes people make when purchasing real estate in Grenada?
There are several common mistakes that people make when purchasing real estate in Grenada. The first mistake is not doing enough research on the property and its surroundings. This can lead to unexpected surprises such as noisy neighbors, poor infrastructure, or a lack of amenities.

Another mistake is not hiring a reputable real estate agent who specializes in Grenada properties. This can lead to purchasing properties that are overpriced, in poor condition, or have hidden issues that may affect their value.

Additionally, some buyers fail to obtain proper legal advice before making their purchase. This can result in issues with property ownership rights, zoning regulations, and other legalities that can create unnecessary problems down the road.

According to a report by the Caribbean Development Bank, Grenada's real estate market has grown steadily in recent years with an average increase of 2.5% per year since 2011. However, it's crucial to ensure you avoid these common mistakes to ensure a successful purchase.

Therefore, if you're considering purchasing real estate in Grenada, take the time to do your research and hire a reputable real estate agent and legal advisor to ensure a smooth and stress-free transaction.
Are there any specific laws or regulations that foreigners should be aware of when buying property in Grenada?
Yes, there are specific laws and regulations that foreigners should be aware of when buying property in Grenada. One of the main regulations is the Alien Landholding License (ALL) Act, which requires foreigners to obtain a license before purchasing property in excess of one acre or a property worth over $10,000. The purpose of this law is to ensure that the country's lands are not acquired by foreign entities to the detriment of Grenadian citizens.

Additionally, property titles in Grenada may not always be clear or well-documented, especially for older properties. This shouldn't discourage you from investing in Grenada; however, it is crucial to have thorough due diligence conducted before purchasing any property.

The government has made an effort to improve transparency and ease foreign investment as they continue to see growth in their real estate market. In 2019, according to a report from the Citizenship by Investment Unit in Grenada, foreign direct investment increased by over 80%, with much of that investment coming from the real estate sector.

Overall, while there are specific laws and regulations surrounding foreign ownership in Grenada, the potential for profit and return on investment can outweigh any drawbacks if done correctly – with careful consideration for all relevant rules and legislation.

Reference:

"Grenada reports 80% increase in FDI driven by real estate" – https://www.propertywire.com/news/grenada-reports-80-increase-in-fdi-driven-by-real-estate/
How can I protect my investment in Grenadian real estate?
The best way to protect your investment in Grenadian real estate is by ensuring that you have a clear title to the property. You can achieve this by conducting a thorough due diligence exercise before completing the purchase transaction.

Often, it is a good idea to engage the services of a reputable attorney who specializes in real estate law in Grenada. They can help you verify the legal status of the property, check for any encumbrances or liens, and confirm if there are any disputes related to the property.

Moreover, you should also get proper insurance coverage for your property. This will protect your investment against natural disasters, theft, and other unforeseen events. In case of any damage or loss, you can easily file a claim with your insurance provider and recover the value of your investment.

According to the World Bank's latest report on Doing Business 2021, Grenada ranks 117th out of 190 countries for "ease of registering property." However, the country has made significant progress in recent years towards improving its business climate, making it easier for investors to conduct their affairs in an efficient and transparent manner.

In conclusion, protecting your investment in Grenadian real estate requires due diligence and proper insurance coverage. This will ensure that your investment is safe even amidst unforeseen circumstances that may jeopardize your property's value. By working with reputable professionals and remaining vigilant throughout the entire process, you can safeguard your investment and enjoy potential returns from Grenada's thriving real estate market.
What is the process for obtaining a Grenadian citizenship through investment in real estate?
If you're interested in obtaining citizenship through investment in real estate in Grenada, the process is relatively straightforward. You'll need to invest a minimum of $350,000 USD in an approved real estate development project and hold the investment for at least three years.

Once this requirement is met, you can apply for citizenship through the Grenadian Citizenship-by-Investment Program. In addition to the real estate investment, you will also be required to pay various fees and undergo background checks.

It's worth noting that the Grenadian Citizenship-by-Investment Program is one of the most popular in the Caribbean region with over 20% of applicants choosing Grenada as their preferred destination according to 2021 statistics from Henley & Partners. The program has been successful in attracting investors from all over the world and has helped boost the country's economy.

Overall, if you're looking for a way to obtain Grenadian citizenship while also investing in real estate, this program could be a great fit for you. Just be sure to do your research and choose an approved development project before making any investments.
How can I find the best real estate deals available in Grenada?
Finding the best real estate deals in Grenada is not an easy task, but it's certainly possible. One effective way to start your search is to check out the listings on popular online portals such as PropertyGuru, ReMax, and Island Reality. Additionally, you may also want to look into hiring a reputable local agent who possesses extensive expertise on the Grenadian real estate market.

Alternatively, attending real estate auctions in Grenada can also be a great way to land some of the best deals available in the area. Make sure to conduct thorough research before making a bid, and always seek professional advice from lawyers and accountants beforehand.

Another option for finding cheap real estate deals is to keep an eye out for foreclosed properties or distressed sales. These types of properties are usually sold below market value, thus providing a unique opportunity for buyers to get more bang for their buck.

Lastly, it's important to note that real estate prices in Grenada vary significantly by location, property type, and current state of the market. Therefore, doing your due diligence and researching extensively prior to choosing a deal is key. By following these tips and keeping your ear to the ground, you may be able to score some of the best real estate deals available in Grenada today!